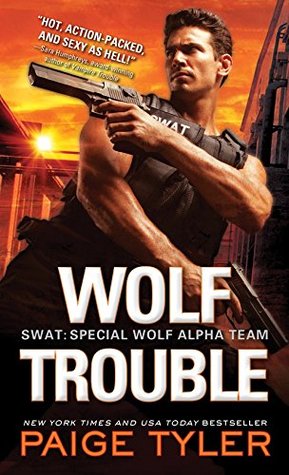 Wolf Trouble
by Paige Tayler
Series
: SWAT: Special Wolf Alpha Team (#2)
Published by
: Casablanca
August 4th 2015
Genre
: Paranormal Romance
Format
: eARC
Source
: Publisher (Netgalley)
Rating
: 5 Stars
Oh my, oh mi, what are this hotties doing to me!
Another great hit on Paige Tyler's SWAT series. What I love about this author's stories is that they grab hold of your insides, your mind, your heart, any part of you it can and makes you want to do something stupid. Like calling sick to work just so you can finish it all in one sitting.
Just like Gage and Mac's book, Khaki and Xander's story was full of action, team work and lots of sweaty, bare chested, alpha males we love to dream about. Although the story was about how a female wolf was introduced as a member of the team and how that was going to to work for the males in the pack, it was also about how two member of the same team can work together. How they needed to understand what been a cop is really about; putting your live in danger even when that doesn't go well with your mate.
But it also showed us a little of what each one of the SWAT members have to go though to be as good as they are and what it is for a new wolf to learn of his/her powers.
With each word read I fell more and more in love with this characters and this author and I can't NOT wait for In The Company of Wolves to see what is next in store for this characters, and of course not to mention the abs, biceps, triceps, shoulders, thighs, as.... you get my meaning.