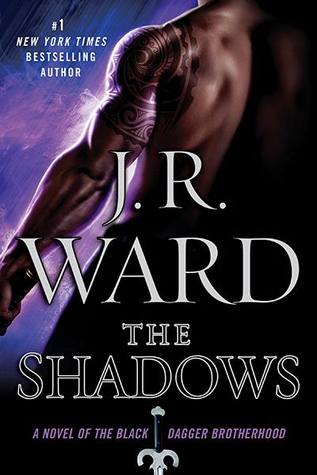 The Shadows
by J.R. Ward
Series: Black Dagger Brotherhood (#13)
Published by: NAL
March 31st 2015
Genre: Paranormal Romance
Format: Hardcover
Rating: 5 Stars
Not even 15% into the book and I was already fishing for the Kleenex! I can't put into words what a great, spectacular and awesome this book was. It was full of love, live, action and some VERY cry worthy scenes. This is my type of book.
I was very surprised with the direction of this book and even if I would have liked another outcome I can not think of any single thing I would have changed of this story. Trez and iAm have gone though a lot and I can really see why the story couldn't have gone any other way. iAm has given his everything to Trez for years, he has been there for the ups and downs and put his live on hold so that Trez could stay free. Now even when it seems that the world is ending, when there is no more hope, it's Trez turn to return the favor so that iAm can live his life and be happy.
With the side stories I am very intrigued as to what that convo between Anselm and his cousin was. What was his solution to the drug thing? What will he do now that his mayor buyer is no longer?
I can wait either for Layla and Xcor story. I am so mad at him! Why did he have to go and be with that female just because Layla found out he had a soft spot? It doesn't mean he isn't strong and a fierce warrior. Men!! Stupid, stupid men.
Also poor Rhage. This survivors guilt is driving him bananas and I can't wait for The Beast, the next BDB book to find out what more is waiting around the corner to mess with his life.
Last I want to take this opportunity to say that what I like most of J.R. Ward books is that even when she finishes a book her MC's don't fall to the sideways and disappear. They might be out of the picture in any given book but they are always there waiting in the background for a tiny chance to make a smartass remark. Also the fact that even when they have found their one, they let us know that they are happy but like in RL not all is sunshine and roses and they can too have marital problems.